Hostry project brings to your attention a new service – Hostry Sitebuilder! This article will provide an introduction to this new service.Hostry offers the following:
A large number of options;
Creative and limitless templates for designing stylish and unique pages for your website;
The ability to create sites with one page, and multi-page sites, blogs, portfolio pages, online stores;
A wide selection of design solutions and types for absolutely any site.
Hostry offers three plans for your choice
Entrepreneur
Business
Corporation
https://hostry.com/products/sitebuilder/
With this service you have the opportunity to choose more than 210 templates: unique, colorful and very interesting!
When choosing a specific category and a specific template, you stop at developing your website or business in a specific template. You can choose any template for your needs, ideas or startups.
You can also choose your language from so many different options. Hostry takes care of its customers and gives you the opportunity to choose your language in which it will be more convenient for you to run your website.
When choosing a specific template, and making some changes to styles, descriptions, text, pictures or other parameters, you will be prompted to "Save changes". In case you decide to change the template, be sure that all the data that you entered into this existing template will be irretrievably lost.
In the special section "Button" you can add specific Text buttons for a beautiful design of your site, while highlighting certain important elements for yourself and your clients
You can also edit the main Menu of your site. It's very simple: select the Menu function and there you can choose the style that suits you perfectly!
Any text you add can be edited, added, removed, and many other features that you can try
In the "Settings" section, you can deeply engage in SEO modernization, editing styles, changing the background. Also, if you have chosen not the most convenient language for you, then you can also change it in this section
Then when you are engaged in making any adjustments to your site, it is important for you to analyze each change. To do this, you can use the "Preview" function in order to view all the changes.
Also, pay attention to the fact that you can immediately preview the changes on different devices: phone, tablet or desktop
In the section "STYLES" you will be able to choose the individual style that suits you best. Here you can take advantage of such functions as "Text Transform", "Margin / Padding" and "Font Scale for different devices
In the "Favicon" section You will be able to choose your icon for the website or web page. Subsequently, it will be displayed by the browser in the tab before the page name, as well as a picture next to the bookmark, in tabs, and in other interface elements
In the "Gallery" section you can choose any pictures. In this section, you can find additional pictures for yourself that will saturate your site with great colors and give it a beautiful look
In the "BLOCKS" section you can add special blocks to your site, which consist of a wide variety. This can be all kinds of services you provide, a personal blog, prices for products or goods, a subscription function, photos, videos, and so on. Take advantage of this feature and make your site attractive!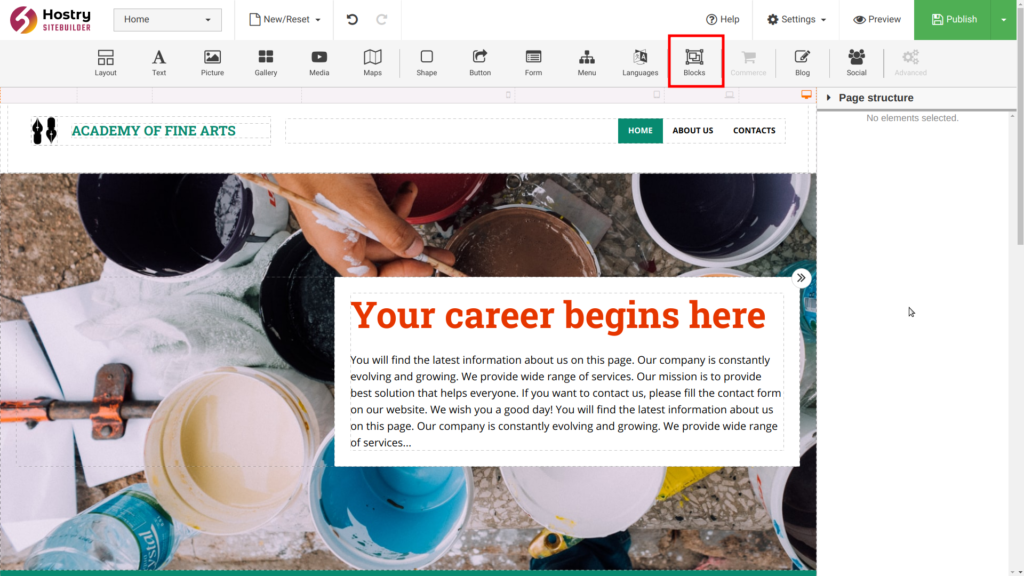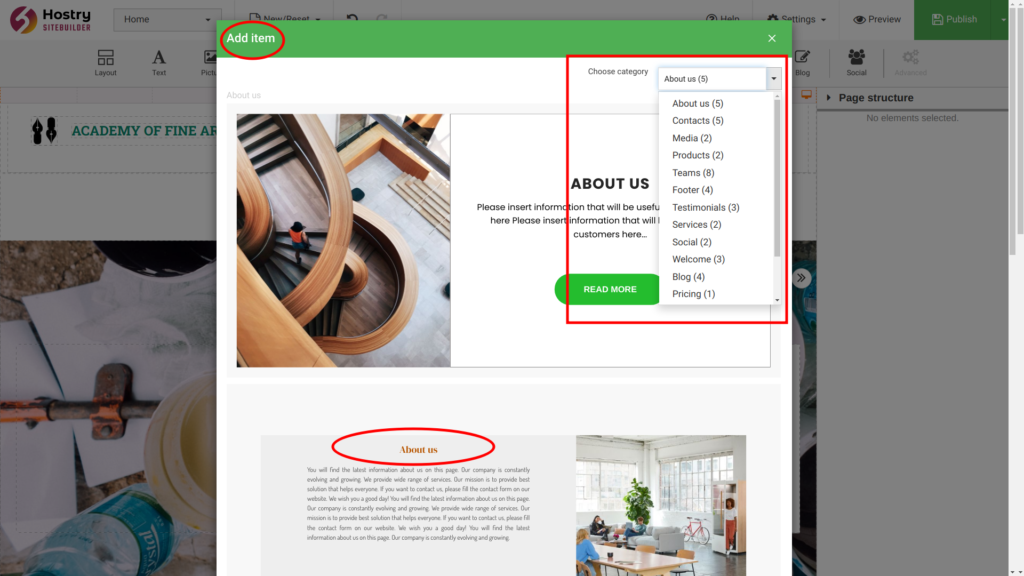 In the "SOCIAL" section you can add links to your social networks. Popularity in sociality is very important because it is in social networks that people today spend a lot of time in search of interesting and important content. Links to your social media pages will help you get ahead and be more readable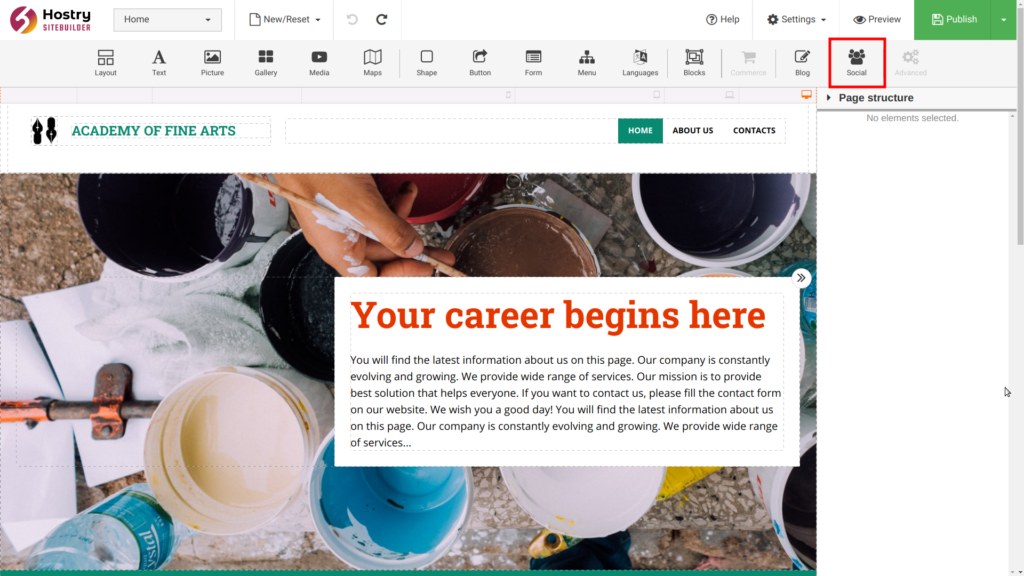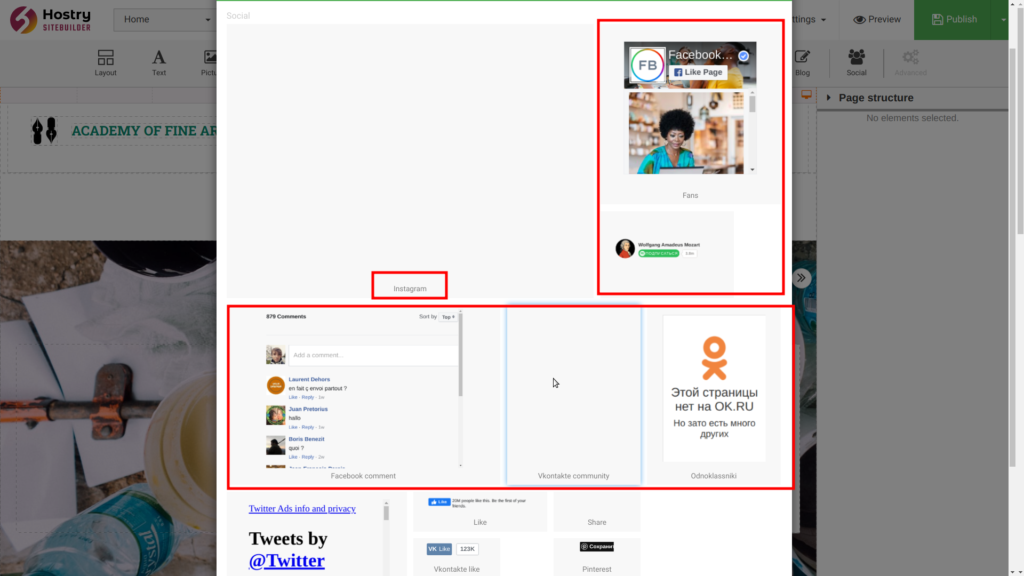 Choose your perfect plan, create your own unique website and join the big Hostry family!